ANASTASIIA LYSENKO

EXPERT CHILDREN'S EVENT CREATOR
MATIAS LETELIER

FOUNDER OF NY MAGICIAN FOR CHILDREN
Anastasiia is an eventoholic! Born and raised in Ukraine, she fell in love with comedic theater, where she used to spend all of her time. She began to manage theaters, which was truly a dream job for her. She also explored real estate, sales and fashion until she realized her true passion—events. She eats, breathes and sleeps them!
Now she sees a clear parallel between stage management and event production. She envisions each event as an immersive theatrical experience, where people enjoy a full transformation through location, food and entertainment.
She creates her own events and partner with other to pull off corporate functions, fundraising, private parties—you name it! However, she has an affinity for kids parties; they give her a chance to be a kid one more time and transform into a magical state of being!
Anastasiia tailors every event specifically for your needs and desires. Whether you are a company, parent or guest of honor who wants to celebrate the day and not get overwhelmed by late guests, she offers an optimal solution where she and her team take the stress of organisation and planning away from you!
Every love has its beginning, and Matias Letelier's began in early 2005—perhaps almost a decade earlier when he discovered for the first time the mind twister games (like separate two nails!). He immediately fell for this ingenious apparatus.
The first magic box Matias encountered belonged to his older brother, Julio—who said "Thanks" but looked elsewhere for adventure. Matias could not resist, and this is how everything started. Very fast he learned how to manipulate the basic elements of a good trick: cards, bills and other illusions. At a young age, he discovered a talent for amazing people.
In his college days, when Matias was pursuing his Business and Marketing Degree, a terrible family accident took place and his uncle, Jorge Barriga (photo on the left), who was a great magician on his twenties, died. Matias inherited part of his uncle's magic library. That was the moment he decided to take his hobbyist's interest in magic to the professional level fusing it with his knowledge of business and marketing.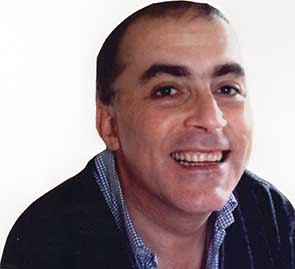 So he studied his Uncle Jorge's books and learned the arts of Theory, Promotional Magic, Corporate Magic, Theatrical Magic, Psychology in Magic, Kids Magic and Communication Skills. Then he developed his show, an immersive experience in which guests become part of the magic. Why? Because magic is not about the magician… it is about performer and audience together letting their imaginations flow with one astonishing effect after the next.
With everything Matias learned in business school, he started his entertainment business in Chile where he performed for thousands of people at private parties, clubs, schools and corporate events. At a young age, he became one of that nation's most popular magicians. He joined the Chilean Magic Circle, an association of professionals, and rapidly became an influential magician who gave lectures both in marketing and in children's magic.
His uncle's magic lives in him
In his shows there is always one trick magician Matias will do to honor the memory of his uncle! This is his way of saying "thank you Uncle George, wherever you are". Check it out on your show!
She did the magic on him not the other way!
However, destiny had other plans for Matias, and it was in 2008 when he met Marlana, a lovely woman from the USA, who went down to Chile to study abroad for a year. They met and rapidly became good friends. While Marlana helped Matias improve his English, Matias did the same with her Spanish. They traveled together back and forward from the USA to Chile until, two years later, and only after Matias got her parents' approval, they got engaged in 2010. At this point Matias left in Chile not only his family and friends, but also a successful magician's career, to come to the USA and start again from zero! And wouldn't you have done the same if you met the love of your life?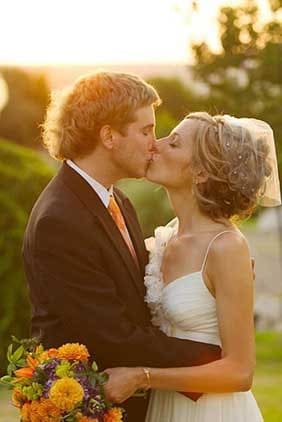 Matias and Marlana got married one year later on July 15th, 2011 in Austin, TX (where Marlana went to undergraduate school at UT). By then, Marlana had already been accepted in Teach For America and they were living in Connecticut. There, Matias began his first formal entry into performing magic in the USA. He received amazing help from his friend Bryan Lizotte, who has been a great friend ever since.
Once again, in 2012, destiny moved Marlana and Matias to Boston, MA where she continued her studies at Harvard. Matias promised Marlana he would will work as hard as possible so she that she needed only to worry about school, leaving the rest to him. . And so he did. By the end of 2012, Matias rapidly positioned himself as the region's expert in children's magic and was awarded best Magician 2012. But it was not until 2013, with an explosive 300% growth in business, performing over 300 shows, that Matias fully arrived professionally in America. By the end of 2013 Matias was the Top Magician in MA, also awarded again Best Magician 2013.
After that, Matias followed his love, Marlana, once more as she pursues her studies to in New York City. She is pursuing Doctoral studies at Columbia while Matias is becoming the Top Magician in NY!
Indeed, NY made Matias start performing at the longest NY running magic show, Monday Night Magic, where Matias met some famous magicians. After two hard-working years, where Matias was awarded best comedy show in NY in 2014, 2015 and 2016, he positioned himself as one of the new hottest NY Magicians for Private and Corporate Events. We know you will be pleased after checking Matias' references. You can be doubly sure he is ready to amaze you!
In March 2017 Matias became a US Citizen and since then continues to amaze his new family-audience.
Why creating a Children's Event Company?
One day Matias realized many of his clients had bad experiences hiring magicians in the past. They thought they made a good decision but soon enough they discovered the magician didn't meet their expectations; the clown wasn't that funny and couldn't keep up with the kids; or the magician showed some cruelty to his doves and bunnies. In other words, they were not happy. And only after booking Matias, they realized how different is to book a professional who is also an expert children's entertainer.
As Matias moved to a new adventure (corporate and private events), soon enough he was fully booked and his clients asked for recommendations for their children events, trusting he would guide them and help them find good quality entertainment. And his clients asked Matias for recommendations. That's when Matias decided to create a team that followed his same standards, making his clients happy because now they have a trusted magician.
This was the beginning of Matias' vision: "NY Magician For Children", a place where the best children's magicians will offer their work to keep doing what they love the most: make children's all over the US happy at their parties.
However, destiny had better and bigger plans. That's when Matias met Anastasiia Lysenko, an expert children's event creator, who shared Matias' ideal. Thus, they partnered and the rest is history.
Whether you are celebrating a kid's birthday party, a Bar/Bat Mitzvah, a First Birthday, a First Communion or want a full planning service, we have the best and trusted New York entertainers ready to help you make your party a complete success.
We invite you to review their profiles, watch their videos, read their testimonials, and then give us a call at (718) 440-0840 to talk more about your event and the best way of helping you make it fun, exciting and memorable.
Who are the Top Children's Magician in New York?
Matias Letelier is a professional Magician from Chile, who has dedicated part of his carreer to work with Kids.
NY Magician For Children is an organization with the expert children magicians in NY and NJ, who have:
High Quality Shows 
We work with the highest standards in quality and customer service to bring you the best show to your party.
Punctuality
Don't you hate when the entertainer arrives late? Well, we made that problem disappear as we guarantee that your performers will always arrive 20-30 min before the show.
Professional
Let's face it, there are many non-professional magicians. And when it comes to your child, we know you want to put together the best party ever.
We have professionals magicians, which 10 or more years of experience working with kids. That's why we called us Trusted Magicians, because thousands of people trust us every single year to help them make their parties not only fun but also memorable.
Some of Our Clients include:
Pine Village Preschool

, Brighton, MA

Pied Piper Preschool

, Duxbury, MA

The

Wonder School

, Belmont, MA

The Beacon Hill Nursery School

, Boston, MA

Steap Ahead Quincy

, Quincy, MA
Granby Memorial Middle School, Granby, CT
Dana Hall School, Wellesley, MA
Hillside School, Marlborough, MA
Diamond Middle School, Lexington, MA
Harvard-Kent Middle School, Charlestown, MA
Rivers School, Weston, MA
Susan B. Anthony Middle School, Revere, MA
Francis Walsh Intermediate School, Brandford, CT
Hamden Hall Homecoming, Hamden, CT
B. Whitehorne Middle School, Verona, NJ
Christian Brothers Academy, Albany, NY
Woodhouse Academy Special Ed high school, Milford, CT
INSIGHT Youth Program, Warwick, RI
Rye Junior High School, Rye, NH
Milton Academy, Milton, MA
Rye Junior High School, Rye, NH
8th District – Grand Masonic Lodge of Massachusett, Braintree, MA
Andover Clubs & Country Clubs, Andover, MA
Boys & Girls Club of Passaic, Passaic, NJ
Chestnut Hill Clubs & Country Clubs, Chestnut Hill, MA
Cocheco Clubs & Country Clubs, Dover, NH
East Hartford Community Cultural Center, East Hartford, CT
Framingham Clubs & Country Clubs, framingham, MA
Gipsy Trail Club, Kent, NY
Heywood Wakefield Commons, Gardner, MA
Hudson Eagles, Hudson, MA
Italian American Club, West Haven, CT
Korean Student Association of Gordon-Conwell, South Hamilton, MA
Myopia Hunt Club, South Hamilton, MA
Nashawtuc Clubs & Country Clubs, Concord, MA
New Haven Lawn Club, New Haven, CT
Norwich Bowling and Entertainment Center, Norwich, CT
Oronoque Clubs & Country Clubs, Stratford, CT
Pinecrest Gold Club, Holliston, MA
Pirate Canoe Club, Poughkeepsie, NY
Point of Pines Yacht Club, Revere, MA
Polish american Club, Lowell, MA
Pondside Apartments, Littleton, MA
Royal Crest Estates, North Andover, MA
Somerset Club, Boston, MA
South Shore Clubs & Country Clubs, Hingham, MA, Hingham, MA
The Highlands at Faxon Woods, Quincy, MA
The Ridge Club, Sandwich, MA
Vega Club Inc., Brockton, MA
Warwick Clubs & Country Clubs, Warwick, RI
Watertown Boys and Girls Club, Watertown, MA
Wayside Swim club, Marlboro, MA
Westchester Hills Golf Club, White Plains, NY
Willow Ridge County Club, Harrison, NY
Woodland Golf Club Cubhouse, Newton, MA
YMCA Beberly, Beverly, MA
YMCA Gloucester, Gloucester, MA
YMCA Mansfield, MA, Mansfield, MA
YMCA Southington, Southington, MA
Basta Restaurant, Cranston, RI
Bella Luna, Boston, MA
Bin 100 Restaurant, Milford, CT
Bollywood Grill, Glastonbury, CT
Brasserie JO, Boston, MA
Bravo Restaurant, Providence, RI
Cafe Nuovo, Providence, RI
California Pizza Kitchen, Cambridge, MA
Casa Mia, Hartford, CT
Catalyst Restaurant, Cambridge, MA
Catalyzst, Cambridge, MA
China Blossom Chinese Restaurant, North Andover, MA
Coromanel Restaurant, Stamford, CT
Daruma of Tokyo Restaurant, Great Neck, NY
Dunn Gaherins, Newton, MA
Felipo Ristorante, Boston, MA
Giovanni's Steak House, Darien, CT
Goat's Head, Worcester, MA
Grafton Street Restaurant, Cambridge, MA
La Famiglia Giorgio's, Boston, MA
Lake Pavilion Restaurant, Flushing, NY
Longwood Tower, Brookline, MA
Loradella's Restaurant, jersey city, NJ
Marc Forgione, New York, NY
Me & Ed's, New Bedford, MA
My Favorite Place, Cos Cob, CT
Ottomanelli's Wine & Burger Bar, New York, NY
Papa Gino's Pizza, Franklin, MA
Papa Razzi, Wellesley, MA
Prime Bistro, Lawrence, NY
Prince Pizza, Saugus, MA
Priya Indian Cuisine, Lowell, MA
Rico's Pizza, Stamford, CT
Roberto's, Monroe, CT
Sabur Restaurant, Somerville, MA
Sakura Tokyo restaurant, Worcester, MA
Saleya Restaurant, New York, NY
SBC Milford, Milford, CT
Sonsie Restaurant, Boston, MA
Stoddard's Pub, Boston, MA
Tellers Restaurant, Islip, NY
The California Room, Hudson, NH
The Local Wayland Restaurant, Wayland, MA
The lodge Restauarant, Webster, MA
THE OLD WELL TAVERN, Simsbury, CT
The University Club, Boston, MA
Uno Pizzeria & Grill, New York, NY
Veggie Fun, Providence, RI
Vicolo Ristorante, Brooklyn, NY
Montessori Elementary School, Mansfield Center, CT
Bedford Village Elementary School, Bedford, NY
Lawrence School, Shelton, CT
Naramake Elementary School, Norwalk, CT
Frenchtown Primary School, TRUMBULL, CT
Carney Academy Elementary School, New Bedford, MA
Elm Street Community School, Cambridge, MA
Buckingham Browne & Nichols School, Cambridge, MA
Pennbroke School, Georgetown, MA
William E Sheehan School, Westwood, MA
Wayland High School , Wayland, MA
Armenian Sisters Academy, Lexington, MA
Pocasset School, Tiverton, RI
William E Russell School, Boston, MA
Harvard-Kent Elementary School, Charlestown, MA
Brophy Elementary School, Framingham, MA
Shrewsbury School, shrewsbury, MA
Alcott School, Concord, MA
William E Sheehan School, Westwood, MA
Underwood After School Program, Newton, MA
Wayland High School, Wayland, MA
Pocassett School, Tiverton, RI
Evan's Park, Pearl River, NY
PS 173, Fresh Meadows, NY
First Precinct Community Council, Yonkers, NY
4-H Fair, Durham, CT
Annual Milford Oyster Festival, Milford, CT
Littleton Country Fair, Littleton, MA
Lighthouse Point Park, New Haven, CT
Arlington Theater, Arlington, MA
Fairfield Theater, Fairfield, CT
Vortex Theater, Austin, TX
Arlington Theater, Arlington, MA
Lincoln Center for the Performing Arts, New York, NY
Boston Museum of Science, Boston, MA
Connecticut Science Center, Hartford, CT
Corning Museum of Glass, Corning, NY
Milford Public Library, Milford, CT
Shelton Library, Shelton, CT
Harry Bennett Library, Stamford, CT
Fair Haven Branch, New Haven, CT
Wilson Branch Library, New Haven, CT
Somerville Public Library, Somerville, MA
Cambridge Public Library, Cambridge, MA
Egleston Square Branch Library, Roxbury, MA
Codman Square Library, Dorchester, MA
Dudley Library, Roxbury, MA
Wayland Library, Wayland, MA
East Boston Library, East Boston, MA
Somerville Public Library, Somerville, MA
East Boston Library, East Boston, MA
Charlestown Branch of Boston Public Library, Boston, MA
Uphams Corner Library, Boston, MA
Faneuil Branch/Boston Public Library, Brighton, MA
Wilmington Local TV, Wilmington, MA
Wellsley Local TV, Wellesley, MA
Somerville Local TV, Somerville, MA
Cambridge Local TV, Cambridge, MA
Newton Local TV, Newton, MA
East Haven Local TV, East Haven, CT
Showcase Cinemas, North Haven, CT
Stratford United Methodist Church, Stratford, CT
Ku's TaeKwonDo Academy, Woburn, MA
Temple Chabad of North Shore, Swampscott, MA
Gibbs Gymnasium , Arlington , MA
Tri Yoga Center, Waltham, MA
New Hampshire Sportsplex, Bedford, NH
Frist Parish of Westwood, Westwood, MA
Harvard Medical School, Boston, MA
Boston Area Rape Crisis Center, Cambridge, MA
Pilgrim Congregational Church, Nashua, NH
St Paul's Episcopal Church, Brookline, MA
Congregation Or Atid, Wayland, MA
Congregational Church Milton, Milton, MA
Fourth Presbyterian Church, Dorchester, MA
Greenway Carousel Entertainment LLC, Dorchester, MA
Holy Cross Church, South Easton, MA
AMC Framingham 16 Cinema, Framingham, MA
First Parish Church, Billerica, MA
Reflection Films, Arlington, MA
Maverick Landing, East Boston, MA
Saint Michaels Church, Holliston, MA
Garvey Hyundai, Queensbury, NY
Rising Stars Childcare

, Lynn, MA
New York Cares
enCourageKids
SeriousFUN
Volunteers For America
BARC
HOBY
Boys & Girls Club of America, New Rochelle, NY
Ossining Recreation Department, Ossining, NY
Breezemont Day Camp, Armonk, NY
Claremont School, Ossining, NY
Ryder Park, Ossining, NY
Community School, Prospect, CT
Katonah Memorial Park , Katonah, NY
Bedford Hills Memorial Park, Bedford Hills, NY
Bedford Village Memorial Park, Bedford, NY
Town of North Castle, Armon, NY
William E. Cottle School, Eastchester NY
Veterans Memorial Park, Harrison, NY
Yorktown Recreation, Yorktown Heights, NY
Symphony Space, New York, NY
Meadow Pond Elementary, South Salem, NY
Harrison Recreation, Harrison, NY
Haddam Killingworth Recreation, Higganum, CT
Town of North Castle, Armonk, NY
Nannahagen Park, Pleasantville, NY
Fayerweather Street School, Cambridge, MA
Fourth Church Summer Camp, South Boston, MA
Discovery & Adventure Summer Camps, Medfield, MA
The After School Club, Woburn, MA
Exxon Mobil Bernard Harris Summer Science Camp, Worcester, MA
Paraclete Summer camp, South Boston, MA
Jam Time, Maynard, MA
BB Kidz Klub, Westford, MA
Together in Motion, Arlington, MA
HOTELS AND CATERING HALLS
A Villa Louisa, Manchester, CT
American Legion Post 443, Cherry Valley, MA
American Legion Post 69, Malden, MA
Boston Harbor Cruise, Boston, MA
Carrie Nation – Beacon Room, Boston, MA
Casa Lucia Function Facility, Revere, MA
Champlain Valley Exposition, Essex Junction, VT
Crest View Plaza, Woburn, MA
Crystal Springs Resort, Sussex County, NJ
Gennaro's Catering Hall, Brooklyn, NY
Harding Allen Estate, Barre, MA
Hudson River View Club, Hudson, MA
Hynes Convention Center, Boston, MA
Italian Center, Stamford, CT
Jillians Lucky Strike Lanes & Lounge, Boston, MA
Knights of Columbus Norwood, Norwood, MA
Knights of Columbus Milford, Milford, CT
Knights of Columbus Readin, MA, Reading, MA
Knights of Columbus Westborough, Westborough, MA
L'Absinthe, New York, NY
Light House, New Haven, CT
Norfolk Union Lodge AF&AM, Braintree, MA
Odyssey Boston Cruises, Boston, MA
Patriots Stadium Showcase Live, Foxborough, MA
Peabody Skating Rink, Peabody, MA
Pinewood Lodge, Plymouth, MA
Saphire Event Group, Sharon, MA
Silver Fox Function Hall, Everett, MA
Sons of Italy, Watertown, MA
Still Wood Inn, Wallingford, CT
Stoneforge Publix House, Raynham, MA
Studio 8, Milford, CT
The American Legion Weymouth, Weymouh, MA
The Hills Restaurant, Waterbury, CT
The Westin Waltham Boston, Waltham, MA
Trattoria Thirty Five, Bayside, NY
Veterans of Foreign Wars Post 1105, Watertown, MA
Village At Taylor Pond, Bedford, MA
West Springfield Fish & Game Club, Feeding Hills, MA
Weylin B. Seymour's, Brooklyn, NY
Wilmington Masonic Lodge, Wilmington, MA
Winchester Sons of Italy, Winchester, MA
74 State, Albany, NY
Aloft Lexington, Lexington, MA
Beechwood Hotel, Worcester, MA
Burlington Marriott, Burlington, MA
Colonnade Boston Hotel, Boston, MA
Countyard by Marriott, Shelton, CT
Courtyard by Marriott, Natick, MA
Crowne Plaza Hotel Newton, Newton, MA
DoubleTree by Hilton, Bedford, MA
Doubletree Suites by Hilton, Boston, MA
Galloping Hill Inn, Union, NJ
Hampton Inn and Suites, Stamford, CT
Hampton Inn Natick, natick, MA
Hampton Inn, Exeter, NH
Hilton Garden Inn, Shelton, CT
Hilton Woodcliff Lake, Woodcliff Lake, NJ
Holiday Inn Danbury-Bethel, Danbury, CT
Holiday Inn Rockland, MA, Rockland, MA
Holiday Inn, New London, CT
Hyatt Hotel Goat Island, Newport, RI, Newport, RI
Nine Zero Hotel, Boston, MA
One Penn Plaza, New York, NY
Royal Sonesta Hotel Boston, Cambridge, MA
Solaria Riverdale, Riverdale, NY
Sturbridge Host Hotel, Sturbridge, MA
The Best Western Royal Plaza, West Marlborough, MA
The Brattleboro Holiday Inn, Brattleboro, VT
The Renaissance, Shelton, CT